They canceled Tucker, now they're coming for us… but you can fight back. Cancel Fox Nation and instead click here to subscribe to Revolver. Or give the gift of Revolver—simply select the annual subscription and select "This is a gift" on the next page. If you want to give extra during this critical time, you can make a one-time or recurring monthly donation — whether it's $1 or $1,000, every bit goes towards the battle to save our great nation.
---
Kari Lake just received the news she's been waiting for: a recent state Supreme Court ruling where the highest court in Arizona granted her request to review how the Maricopa County recorder applied its signature verification policies during the election.
HUGE: Following Supreme Court Ruling, Maricopa County Judge grants @KariLake the opportunity to EXPOSE Election Fraud IN COURT! pic.twitter.com/rnXUeshnqs

— Kari Lake (@KariLake) May 16, 2023
Experience Revolver without ads
The Supreme Court said since Lake was challenging the application, not the policies, it could move to a trial. And that's precisely what's happening.
surely this is impossible pic.twitter.com/zGEcToKdt8

— Tim Pool (@Timcast) May 16, 2023
Katie Hobbs has been fighting this all the way, but her motion to dismiss was denied and now we're officially off to the races.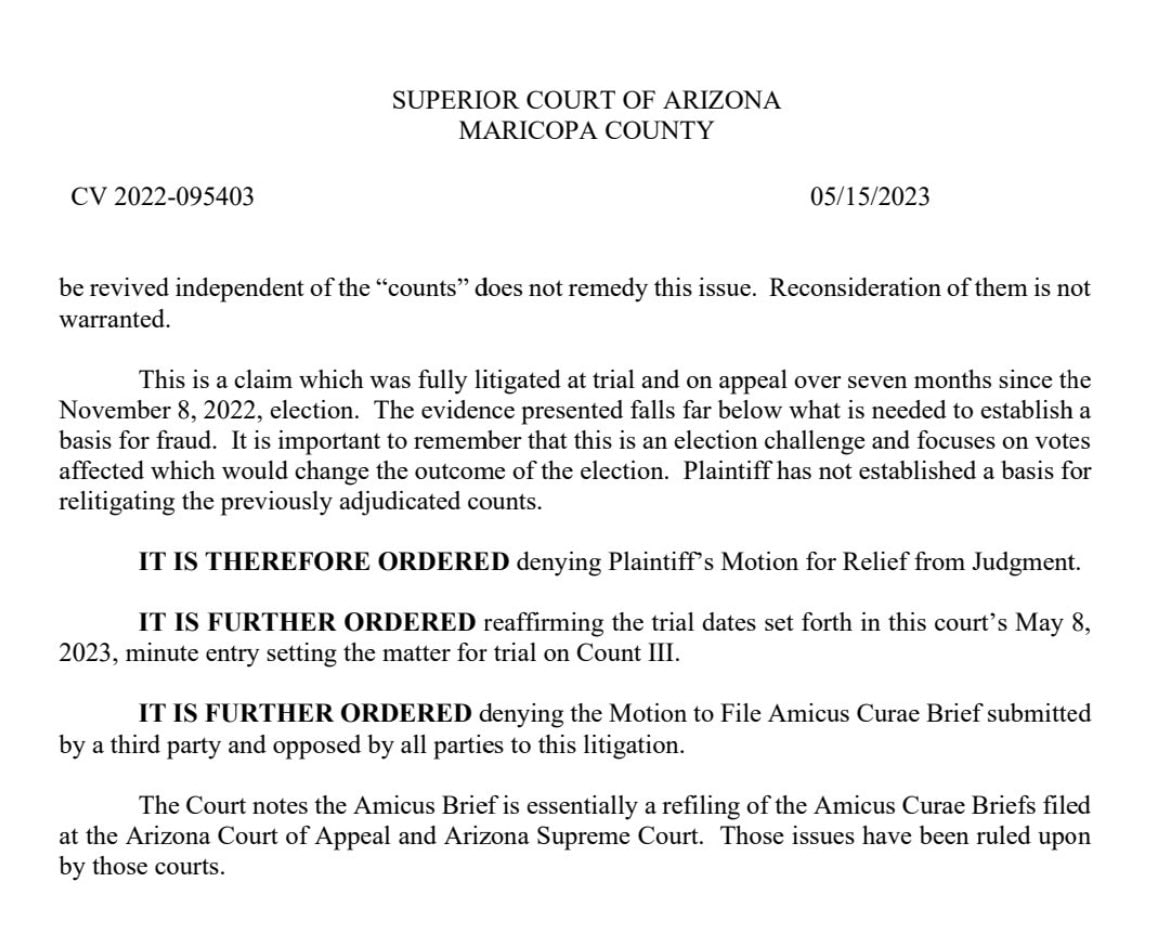 Lake's team claims that the county accepted a substantial number of ballots with signatures that do not match, and they are now set to present their evidence in court.
Kari Lake's lawsuit against Gov. Katie Hobbs claiming election misconduct is moving forward. On Monday, Maricopa County Superior Court Judge Peter A. Thompson approved one count in Lake's lawsuit to continue in court regarding signature verification procedures in the 2022 general election.

Lake's attorneys say the county accepted thousands of ballots that had been rejected by workers for having mismatched signatures. The Arizona Supreme Court revived her claim challenging the application of signature-verification procedures, reversing a lower court decision that found she waited too long to raise that claim. The state Supreme Court sent the claim back to the lower court to decide if there is another reason to dismiss it, or if Lake can show that enough votes were affected to change the outcome of the election, which she lost by over 17,000 votes. Thompson then ruled there is enough evidence to continue with trial, which starts on Wednesday.

The former gubernatorial candidate alleged that at least 164,000 illegal votes were counted, according to The Associated Press. Three signature verification workers have said they experienced rejection rates due to mismatched signatures on 15% to 40% of the ballots they encountered.
Experience Revolver without ads
It's not surprising how this is unfolding. After all,  Kari Lake has fought tooth and nail for the people of Arizona who believe their votes were essentially canceled out that day.
Political consultant Colton Duncan joined her in celebrating her result in court. I'm blown away," he wrote. "@KariLake promised the world that she would fight her Election Case to the bitter end & do EVERYTHING in her power to expose the fraud. She's not like most politicians. She was telling the truth. Now, her case goes to trial. Again, I am blown away.."

Lake will have a chance to prove whether the signature verification procedures were mishandled by Maricopa County officials and whether this affected enough votes to potentially overturn the election's result.

Governor Hobbs has argued that Lake doesn't have evidence that specific mail-in ballots were illegally counted.
Lake appears very confident and laser-focused on the task at hand. She has her ducks in a row.
When Maricopa Co-Elections Director Scott Jarrett changed his story about why printers printed a 19in image on a 20in ballot, he committed perjury

It gets worse

New evidence on "testing" of machines shows Jarrett & co knew EXACTLY why the machines "malfunctioned" Election Day pic.twitter.com/5PKiQvY0nS

— Kari Lake (@KariLake) May 16, 2023
Experience Revolver without ads
We hope Kari Lake receives a fair and impartial trial, rather than one influenced by the left's twisted agenda. It may be a challenging endeavor for her to win and be appointed governor of Arizona in this era, but her determination and resilience are truly admirable. We are cheering for you, Kari.
---
SUPPORT REVOLVER— DONATE — SUBSCRIBE
NEWSFEED — GAB — GETTR — TRUTH SOCIAL — TWITTER