They canceled Tucker, now they're coming for us… but you can fight back. Cancel Fox Nation and instead click here to subscribe to Revolver. Or give the gift of Revolver—simply select the annual subscription and select "This is a gift" on the next page. If you want to give extra during this critical time, you can make a one-time or recurring monthly donation — whether it's $1 or $1,000, every bit goes towards the battle to save our great nation.
---
There's a lot of controversy and concern over Elon Musks new pick for the CEO of Twitter. Her name is Linda Yaccarino and she has some very disturbingly strong ties to the World Economic Forum (WEF) which has many conservatives feeling very apprehensive about the future of "fairness" on the platform.
And it's no wonder — even Elon finds WEF's power alarming, as he started in this January 2023 tweet.
WEF is increasingly becoming an unelected world government that the people never asked for and don't want

— Elon Musk (@elonmusk) January 18, 2023
Experience Revolver without ads
Linda has has a very cozy relationship with the creators of the "Great Reset." She's actually an "executive chairwoman" for the globalist group that's led by Klaus Schwab.
According to Linda Yaccarino's LinkedIn page as well as her OWN TWEETS, she is a vaccine-mandating, pro mask-wearing globalist who is just as bad as it sounds.

Her first red flag is that she is a member of the World Economic Forum (WEF). She is the Executive Chairwoman of the WEF's Taskforce on Future of Work and their Media Initiative.

The WEF are the people who run the world, and no, that's not a conspiracy theory. Even Elon Musk himself tweeted his concerns about the WEF … and then he went and hired one of their top executives to be the new CEO of Twitter. What the…

YACCARINO MENTIONS WEF ON HER LINKEDIN PAGE
Linda Yaccarino's LinkedIn page says that she is a member of the World Economic Forum:

Given everything conservatives have experienced, it's only natural for them to have concerns. Ignoring these red flags would be nothing short of gullible.
Experience Revolver without ads
As recently as two days ago, Elon has made attempts to reassure everyone that we won't revert to the oppressive era of Jack Dorsey and Parag Agrawal, who engaged in censorship against anyone who didn't conform to the progressive agenda.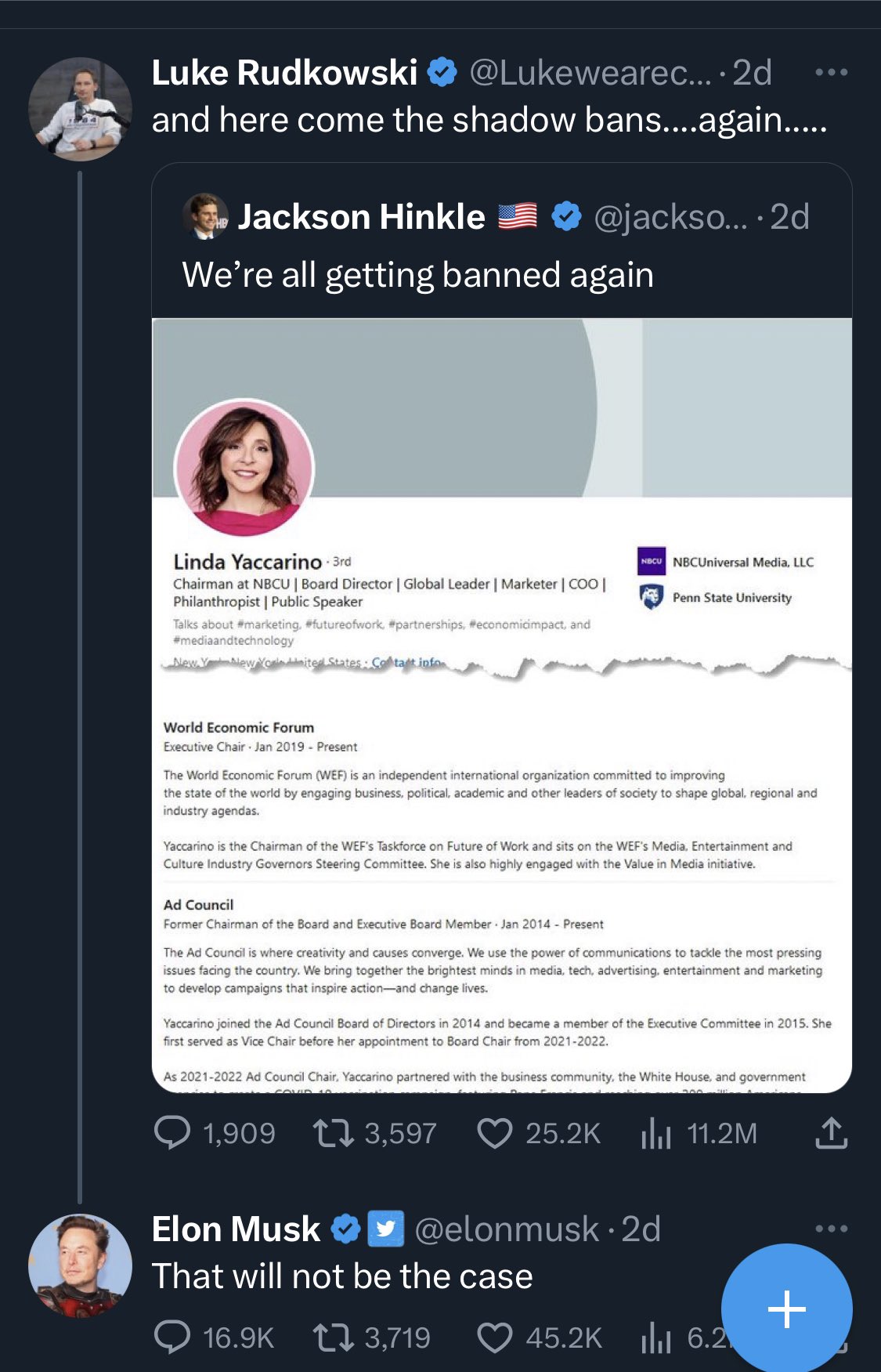 So now, the big question on everyone's mind is why Team Elon chose to permanently suspend the conservative account "TopLobtsa" for simply cracking a humorous joke about the new CEO.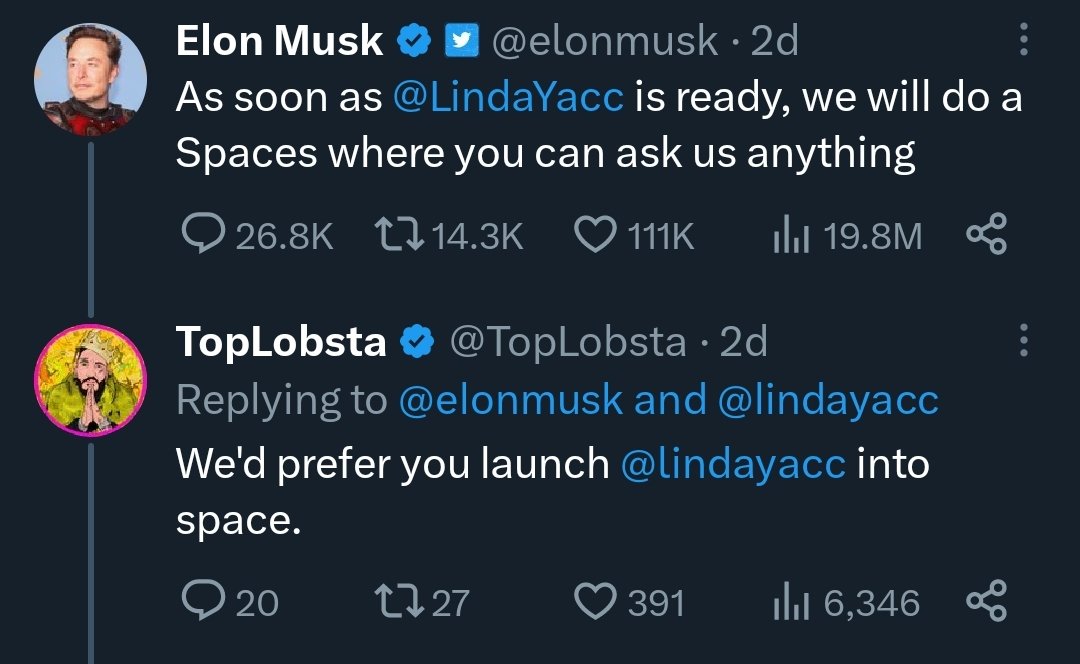 Launching her into space? Come on, that's funny stuff, and clearly not meant to be serious. So, why did Team Elon immediately terminate this person's account?
Here's what Vivek said about the tongue-in-cheek joke in a tweet scolding Elon Musk:
If this is true, it's not a good look for a free speech platform to censor someone for making an innocent joke about the new CEO of that free speech platform. Assuming this is accurate, this strikes me as an unforced error that @elonmusk can & should easily fix. https://t.co/JBrL0HLee9

— Vivek Ramaswamy (@VivekGRamaswamy) May 15, 2023
Maybe it's time for Elon to loosen up a little. After all, he's the one who declared that "comedy" was finally welcome back on Twitter.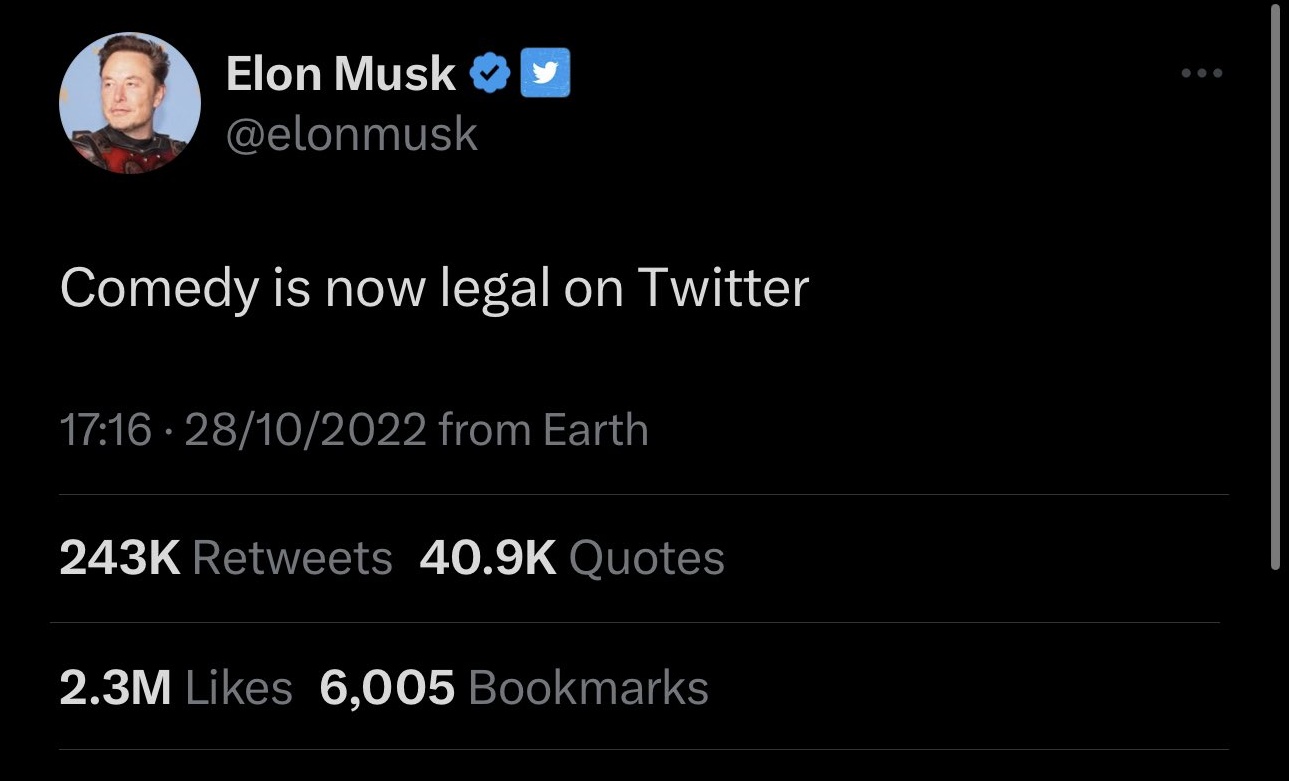 Experience Revolver without ads
Maybe not, eh?
---
SUPPORT REVOLVER— DONATE — SUBSCRIBE
NEWSFEED — GAB — GETTR — TRUTH SOCIAL — TWITTER